Bridgit® lead-free solder provides exceptional strength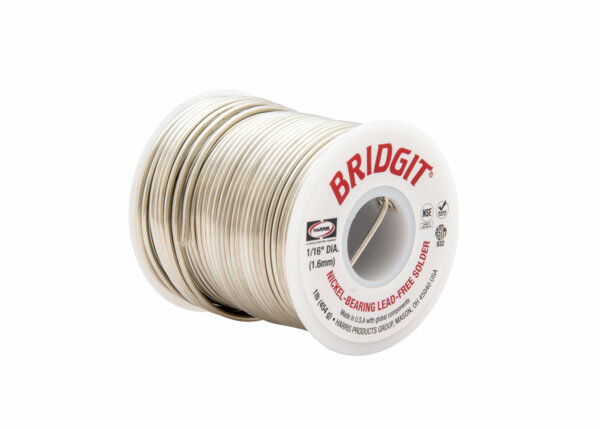 For more information contact:

Ira Vea Bennett - ira_bennett@lincolnelectric.com - 678.928.3772

Mary Sawyer – mary@geileon.com - 314.727.5850


Bridgit® Lead-free Solder Provides Exceptional Strength
Mason, Ohio (DATE, 2021) – Bridgit® plumbing solder, manufactured by Harris Products Group, is specifically formulated as a lead-free solder to replace the 50/50 tin-lead for copper tube connections.
Only Bridgit contains nickel, a key ingredient used to toughen stainless steel and tool steels, for higher joint strength and excellent flow properties. Bridgit has a wide plastic range which operators will find to their advantage when filling poorly fitted joints. It also has the capability of flowing through tight capillaries when joints are at or above its liquidus temperature. Bridgit solder has solidus at 460°F (238°C) and liquidus at 630°F (332°C).
Bridgit is a patented alloy that meets all Federal Requirements for lead-free solders mandated by the Federal Safe Drinking Water Act Amendments of 1986.
For more information about this product, visit https://bit.ly/2PEEBQJ
About the Harris Products Group

The Harris Products Group, a Lincoln Electric company with headquarters in the U.S., is a world leader in the design, development, and manufacture of cutting, welding, brazing, and soldering equipment, consumables and gas distribution systems. The Harris Products Group products are sold and used in more than 90 countries. For more information about The Harris Products Group and its products and services, please visit the Company's website at www.harrisproductsgroup.com.