New from Harris Products Group: Single Source Coil Fabrication Solutions for HVAC/R OEMs, and Enhanced Digital Tools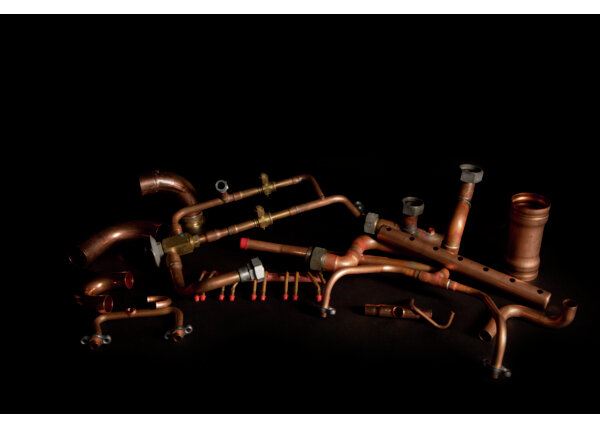 HVAC/R equipment manufacturers can now save time and resources, and benefit from strong application expertise, when specifiying products from Harris Products Group. The long-time manufacturer has added fabricated tubular products including copper and aluminum headers, distributor assemblies and other complex brazed assemblies to its existing line of brazing alloys, torches and gas control components.
Harris representatives will be talking to customers about this product expansion at the AHR Expo, Jan. 31-Feb. 2 in Las Vegas, at Booth # N9917.
"Single source buying is an important advantage for many of our customers," said Kyle Smith, Director of Global OEM for Harris."With our wider product portfolio, we're now able to support the entire coil. OEM customers will have one partner to turn to for application expertise, to develop solutions, to drive those higher first pass yields."
Harris is the only manufacturer who can offer the fabricated products as well as the alloys and equipment used for HVAC/R coil systems, Smith said. The expanded product line is the result of parent company Lincoln Electric recently acquiring Fabricated Tube Products (FTP) and Shoals Tubular, Inc. The two companies manufacture copper and aluminum headers, distributor assemblies and other complex brazed assemblies in the United States and Mexico for the HVAC/R sector.
In addition to a stronger presence in the HVAC/R manufacturing market, customers in 2022 can also expect to see a stronger client support network through new digital tools that make it easier to connect with Harris' expertise, whether they're seeking general product information, application case studies, or custom solutions.
Greg Doria was named President of Harris Products Group on October 1, and is a big proponent of expanding the company's digital footprint to make it even easier for customers to do business with Harris.
"We're creating a seamless platform that allows our customers to quickly and efficiently get their questions answered or connect with the applications experts for indepth assistance," Doria said. "We want to continue to be a strong partner with our OEM customers and our new digital tools will support that goal."
Harris is launching a new website soon that offers improved online experiences for both end users and distributors. A section dedicated to HVAC/R manufacturers will outline the company's broad portfolio of solutions and application expertise for high-quality and efficient HVAC/R coil fabrication. The website will also be accessible in multiple languages including Spanish, Italian, French and Polish.
Doria said the company is keeping a focus in 2022 on sales inventory and operations processes to plan for changing customer needs. Having multiple production locations allows Harris to meet the needs of OEMs successfully, and the addition of FTP and Shoals gives Harris even greater flexibility in terms of production capacity.
Manufacturing close to customers is a key advantage, Smith said. "We now have a good footprint with facilities in Tennessee and Alabama in the U.S., as well as a plant in Monterrey, Mexico, so we can be very close to our customers," Smith said.
About the Harris Products Group
The Harris Products Group, a Lincoln Electric company with headquarters in the U.S., is a world leader in the design, development, and manufacture of cutting, welding, brazing, and soldering equipment, consumables and gas distribution systems. The Harris Products Group products are sold and used in more than 90 countries. For more information about the Harris Products Group and its products and services, please visit the Company's website at www.harrisproductsgroup.com