Harris New Gas System Utilizes Data to Attain Maximum Efficiency
Laboratories can now control, manage and analyze gas usage.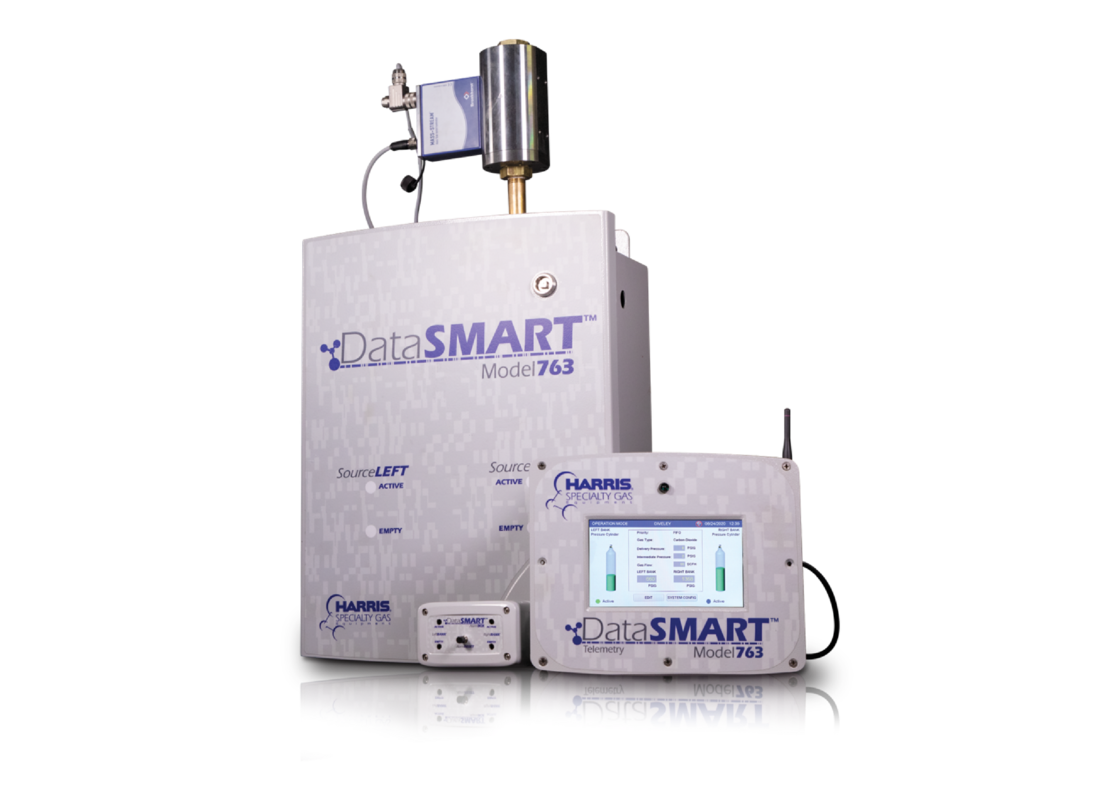 Harris Products Group has introduced DataSMART®, a fully automatic switchover manifold system with monitoring, tracking and reporting capabilities that can control and maximize gas use and expenses. DataSMART's proprietary software and advanced technology provide users with valuable data and analytical insights to improve efficiencies and reduce costs.
Uninterrupted supply of high-purity gas is central to success in analytical laboratories for use in gas chromatography, mass spectrometry and CO2 incubators. These laboratories will benefit from DataSMART's enhanced control of programmability, check back, touchscreen access, historical data, rapid analysis and multiple alerts via email and SMS. The system works with atmospheric gases, some flammable gases, and in bulk, cylinder or liquid dewars. DataSMART® provides a switchover with high-leak integrity, maintaining the purity of gas throughout the entire process.
"The DataSMART® line of automatic switchover manifolds is the first product to offer analytical labs a full view of their specialty and medical gas applications, with pressure and flow monitoring, data collection, and customizable alerts that can be received anywhere in the online or connected world," said Harris Products Director of Engineering Equipment Randy Edenfield.
As an automatic switchover system, DataSMART® keeps the gas flowing by keeping the pressure constant when it is necessary to switch gas supply from a primary to a reserve cylinder. For operations using liquid dewars, after switching to the secondary container DataSMART® monitors the pressure on the primary cylinder. If the pressure increases, a check back feature will switch the system back to the primary source and utilize the remaining gas with pressure monitoring for both the primary and reserve sources. Since the cylinders won't be returned with leftover gas, waste is reduced.
DataSMART's integrated telemetry system enables pre-set trigger points to be set that send real-time alerts and alarm notifications to avoid downtimes. The telemetry box connects to pressure transducers. Through network or GSM/SMS connectivity, the system sends alerts directly through email or text.
DataSMART® operates with custom-designed printed circuit boards (PCBs) utilizing dual processors, and features a user-friendly touchscreen with a gas source graphics display. The system offers customizable options for bank switching and includes an option to set the desired switchover pressure level. There is no need to open the unit to change dip switches. A simple touch of the screen and the system is set.
Beyond the real-time readings of the volume of gas in each source container, DataSMART® collects historical data so gas consumption trends can be identified over time. It will monitor gas flow and usage, as well as collect
and store data. The system records the dates of every switchover and can be utilized to schedule deliveries precisely when they are needed and for exactly the amount that is needed to optimize efficiency.
A subscription service, the DataSMART® Production Analytics, leverages the full power of smart gas control. This comprehensive platform records data, analyzes it, and provides practical and robust insights into your productivity and efficiency. Through a secure, cloud-based system, any computer, laptop, phone or mobile device can be synced to the system for access to its valuable reports and analytics.
By utilizing DataSMART's optional mass flow meter option, users can generate reports on how much gas has been used, whether it is the previous year, the previous month, or even the previous hour. Users gain a more accurate understanding of overall usage, but because it precisely measures the volume of gas used, users
also gain a clear picture of the amount of gas used for each specific project.
"If you cannot measure a business process, then you cannot improve upon it," said David Gailey, Harris Product Manager of Specialty Gas Products. "We are committed to assisting customers with all gas delivery and application solutions. We developed DataSMART® to help laboratories utilize data to make informed decisions that will improve their operations."
For more information about DataSMART®, visit http://www.harrisspecgas.com
About The Harris Products Group
The Harris Products Group, a Lincoln Electric company with headquarters in the U.S., designs, develops and manufactures gas equipment and distribution systems for analytical laboratories. Harris is also a world leader in gas equipment and consumables for cutting and welding, providing solutions for specialty and industrial gas users. For more information, visit www.harrisspecgas.com or www.harrisproductsgroup.com