As Helium Shortage Intensifies with Russia Sanctions, Harris Products Group Offers Guide to Maximizing Gas Allocation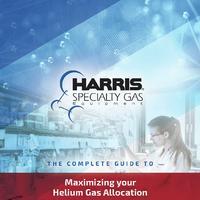 With conflict escalating between Russia and Ukraine, the helium shortage has worsened. Russia has one of the world's largest supplies of this gas, and with sanctions in place to inhibit money flowing into the country, experts say helium will be even harder to obtain.
To help companies maximize their helium allocation during this crisis, The Harris Products Group is offering a free white paper with technical information and practical tips that provide advice about determining benchmarks, calculating inefficiencies and finding efficient solutions.
The guide from Harris provides valuable insights to customers in the areas of analytical labs, chemical processing, research, biotech, pharmaceuticals, fabrication and manufacturing who want to reduce helium usage, and also avoid the hefty capital expenses and time expenditures involved in having to convert to hydrogen usage. 
The 'Maximizing Your Helium Gas Allocation' white paper can be downloaded for free at
https://harris.co/Helium-Shortage
. 
Harris manufactures gas distribution products including regulators and flowmeters, as well as gas manifold systems to accurately track and conserve the consumption of various types of gases.
About The Harris Products Group
The Harris Products Group, a Lincoln Electric Company with headquarters in the U.S., is a world leader in the design, development, and manufacture of cutting, welding, brazing, and soldering equipment, consumables and gas distribution systems. The Harris Products Group products are sold and used in more than 90 countries. For more information about The Harris Products Group and its products and services, please visit the Company's website at www.harrisproductsgroup.com.