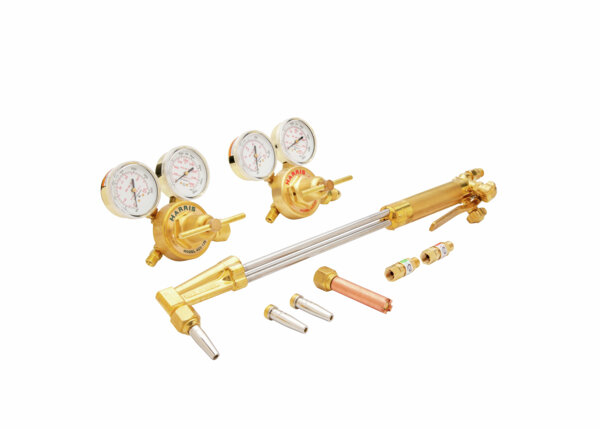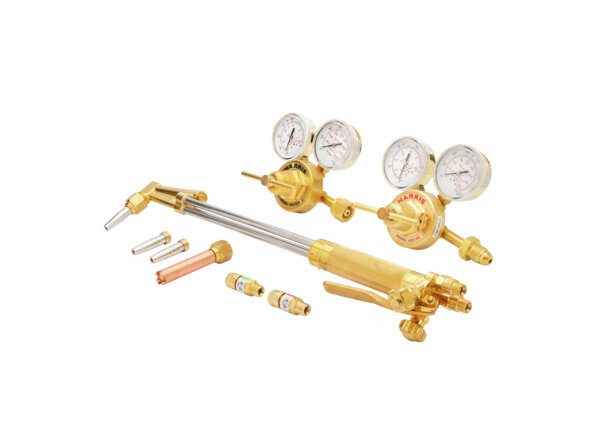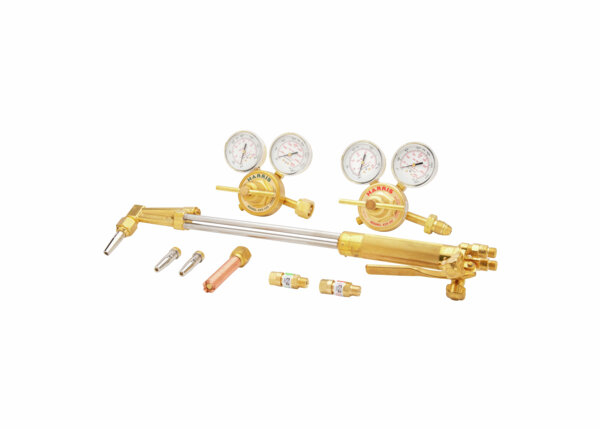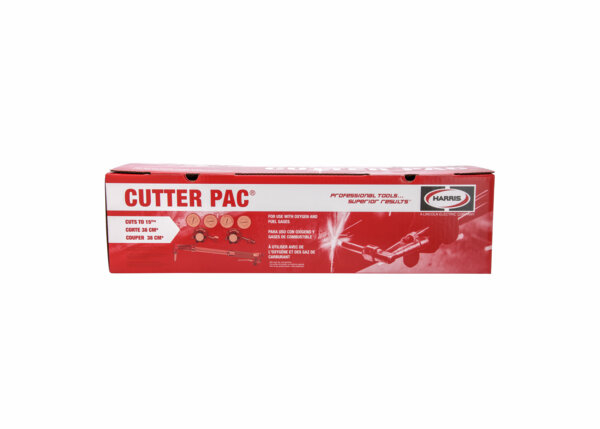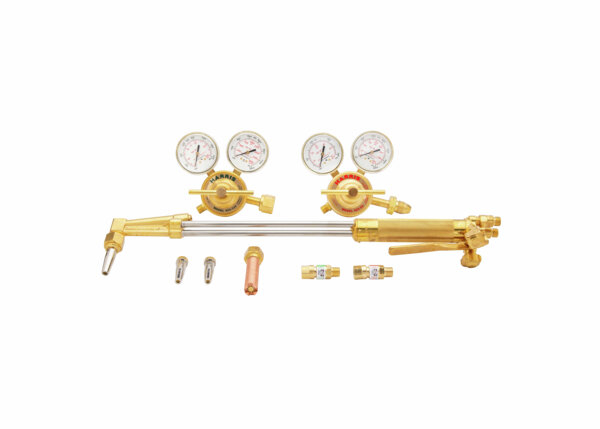 Model 62-425-510P Cutter Pac® kit contains all the major components needed for cutting and special applications using alternate fuel gases/propane. It features Harris' most popular regulators with large, easy-to-read, 2.5" dual scale gauges, an ergonomic adjusting knob for precise pressure adjustments, one-piece encapsulated seats for longer service life and a 7-year warranty. This kit is equipped with a heavy duty straight cutting torch designed for maximum performance using low-cost alternate fuel gases. It features a unique, low pressure, injector mixing system for the hottest preheat flame and the most efficient use of alternate fuels. Included with the torch are fuel and oxygen flashback arrestors. With the supplied propane cutting tips, the kit is capable of cutting up to 3" (76.2 mm) plate. The supplied H-62-2P multi-flame heating tip can deliver up to 333,000 BTU's for heavy heating. The kit is also capable of cutting up to 12" (304.8mm) plate with optional larger tip(s). Conveniently packaged for point-of-purchase display.
Features
Complete Cutter Pac® for cutting and specialty cutting/heating applications
Designed to use alternate fuels/propane
Harris' lower cost, but with premium features, Model 425 regulators have large, easy-to-read, dual scale 2.5" brass gauges and brass "T" screw adjusting handle
The regulators have a one-piece encapsulated seat design with internal filter and PTFE Teflon® seat to protect them from particulate contamination
The Model 62-5FL heavy Duty straight cutting torch has a triangular tube design with brazed connections for strength, safety and a long service life.
Torch uses an "F" injector or low pressure type mixing system
The torch has a 90◦ head angle and is 21" long.
Kit includes Model 6290-1NX, 6290-2NX, 6290-3NX cutting tips and Model H-62-2P heating tip
Cuts up to 1" (25.4mm) plate with supplied tips; Cuts up to 12" (304.8mm) plate with optional larger tip(s). Optional tips sold separately.
What's Included
Model 425-50-510P Alternate Fuels Regulator - 3000713
Model 425-125-540 Oxygen Regulator - 3000714
Model 62-5FL Hand Cutting Torch - 1003470
Model 6290-1NX Cutting Tip - 1501230
Model 6290-2NX Cutting Tip - 1501240
Model 6290-3NX Cutting Tip - 1501250
Model H-62-2P Heating Tip - 9100518
Model 88-5 FBT (R&L) arrestor - 4302202
Trilingual Kit Manual - 9505643
Warranty Information
Regulators: 7 Years;All other components: 1 Year
Equipment
Cutting Capacity
Cuts up to 1" (25.4mm) plate with supplied tips; Cuts up to 12" (304.8mm) plate with optional larger tip(s). Optional tips sold separately.
Cutting Tip Style - Alternate Fuel (Size)
6290-1NX
6290-2NX
6290-3NX
Equipped With
Oxygen and Fuel Gas Flashback Arrestors - Models 88-5N-FBTR and 88-5N FBTL
Fuel Gas Regulator Model Number
425-50-510P
Head Angle
90 degrees (torch)
Heating Capacity
333,000 BTU
Included Accessories
Hand Cutting Tips - Model Nos. 6290-NX, 6290-NXP, 6290-NFF, 6290 Alternate Fuel Specialty Tips and Heating Tip - Model No. H-62-2P - PN 9100518)
Torch Flashback Arrestors Fuel & Oxygen Pair - Model No 88-5-FBT (R&L) - PN 4302202; Standard Tip Cleaner - Model C-9 - PN 9000156; Two-Piece Tip Cleaner - Model E-9 - PN 9000160
Mixer Type
F" injector or low pressure
Oxygen Regulator Model Number
425-125-540
Recommended Items/Accessories
Steel Gauge Guard - Red (Fuel) - PN 4300238; Steel Gauge Guard - Green (Oxygen) - PN 4300239; Standard Tip Cleaner - Model C-9 - PN 9000156; Two-Piece Tip Cleaner - Model E-9 - PN 9000160
Tank Connection
CGA 540 & CGA 510P
Torch Handle Model Number
62-5FL-21
Torch Length
21" (533.4mm)
Torch Model Number
62-5FL
Warranty
| | |
| --- | --- |
| Warranty | Regulators: 7 Years;All other components: 1 Year |