Harris Model 351 regulator improves weld when using Shielding Gas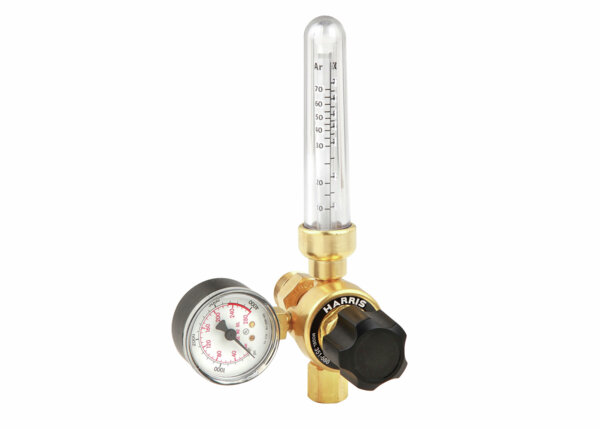 For more information contact:
Ira Vea Bennett - ira_bennett@lincolnelectric.com - 678.928.3772
Mary Sawyer – mary@geileon.com - 314.727.5850

Harris Model 351 Regulator Improves Weld When Using Shielding Gas
Mason, Ohio (DATE, 2021) – The Harris Products Group "zero" compensated flowmeter regulator for use with shielding gas protects the weld puddle against contamination from atmospheric air and other elements that can cause weld defects.
The Harris model 351 "zero" compensated flow control device utilizes a ball float and a variable area flowmeter to yield precise control of the welding gas. The control valve is strategically placed on the upstream side of the flowmeter, which means that it can operate accurately at virtually any inlet pressure, unlike traditional pressure compensated models, which require operation only at the calibrated pressure. This design also significantly reduces the surge associated with pressure compensated flowmeters allowing it to also function as a gas saving device.
Harris produces two versions of the Model 351 regulator, one for pipeline applications up to 200 psi inlet pressure and one for cylinder applications up to 3000 psi inlet pressure. The regulators feature a one-piece encapsulated seat design with an internal filter and a PTFE Teflon® seat. They are equipped with a forged brass body and conform to CGA E-4 standard for gas pressure regulators. All Model 351 regulators are manufactured and tested at Harris' Gainesville, Georgia facility, and have a seven-year warranty.
Harris offers the Model 351 as a standalone product or with an inert gas hose.
For more information about this product, call 1.800.733.4043.
About the Harris Products Group
The Harris Products Group, a Lincoln Electric company with headquarters in the U.S., is a world leader in the design, development, and manufacture of cutting, welding, brazing, and soldering equipment, consumables and gas distribution systems. The Harris Products Group products are sold and used in more than 90 countries. For more information about The Harris Products Group and its products and services, please visit the Company's website at www.harrisproductsgroup.com.