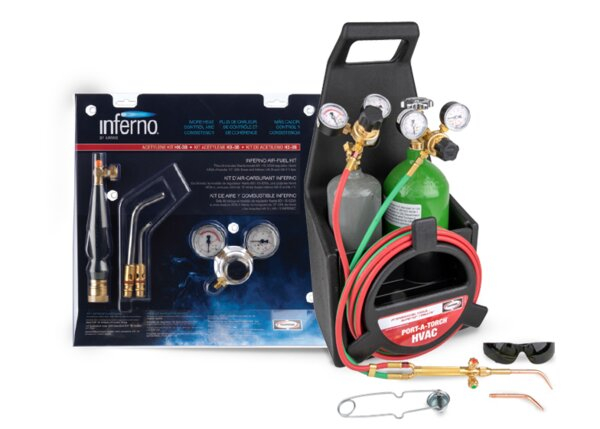 The Harris HVAC outfit contains all the quality equipment needed for brazing. The solid brass brazing handle and cutting attachment have connections which make them compatible with most brazing equipment. As supplied, the outfit is capable of cutting up to a 1" plate and welding up to a 1 ⁄16"plate . The outfit can cut up to a 4" plate and weld up to a 1 ⁄2" plate with larger tips and acetylene cylinder. The regulators have a 7 year warranty, all accessories and other components in the kit have a 1-year warranty.
Features
The Harris HVAC Kits include the equipment, components and accessories needed for most brazing, cutting and welding projects.
The regulators have a one-piece encapsulated seat design with internal filter and PTFE Teflon® seat to protect them from particulate contamination
Kits available with or without a cutting attachment and cutting tip
Kits use acetylene
Warranty is 7 years for the regulators and 1 year for all other components in the kit.
Depending on the model selected and tip(s) used, the cutting capacity is between 1" (25.4mm) and 4" (101.6mm) plate and the welding capacity is between 1/16" (1.6mm) and 1/2" (12.7mm) plate.
Typical Applications
HVAC
Plumbing
Refrigeration