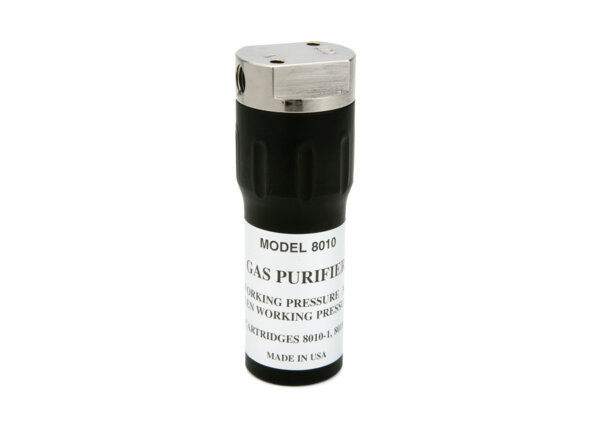 Model 8010 gas purifier protects gas systems from contamination of oil and water found in some industrial gases and occasionally in specialty carrier gases. The small daily operating costs more than justify the prevention of a system shut-down and the subsequent cleaning and/or repair costs. The Model 8010 purifier shell must be used with a specially designed replaceable cartridge. These cartridges are shipped in hermetically sealed cans with convenient pull-tap tops for easy opening. The improved packaging ensures full retention of capacity during storage.
Features
Aluminum anodized blue shell body
Chrome-plated brass shell head
Buna N seal
2000 PSIG (500 PSIG for oxygen) maximum operating pressure
40◦F to 165◦F (4ºC to 74°C) operating temperature range
100◦F (38◦C) dew point achievable
1/4" FNPT inlet and outlet ports
2" diameter x 5 3/4" long
Weight with cartridge is 1.5 lbs.
Typical Applications
High purity gases
Industrial gases
Moisture control
High pressure gas systems