Sales from new metalworking outfit to benefit Workshops for Warriors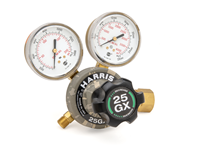 The Harris Products Group and its parent company, Lincoln Electric, have long histories of supporting veterans. Harris' Industrial Sales Manager for North America, Patrick Fagerquist, learned about Workshops for Warriors (WFW) after spending time at their school in San Diego and seeing the significant contributions made by the organization. He suggested that Harris create a promotional program to draw attention to WFW and raise funds for its operations. Fagerquist took his idea to Greg Barnes, a graphic designer at Harris and a fellow veteran.
He said, " I am like most veterans - good with my hands. What Workshops for Warriors is doing is amazing because affording a veteran the opportunity to have a career in welding can be a perfect fit. I wanted to develop a product that would pay homage to our military personnel and what they mean to this country. We chose an actual Government-issued 40MM ammo can to package the product in, and outfitted the regulators with a digital camo pattern that makes them totally unique and different from anything in the market."
Click the download link below to read the entire article.

Download