Using alternate fuels can provide cost and performance benefits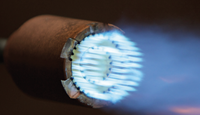 Oxy-fuel has been used in a variety of applications for cutting, brazing, welding and heating for more than 100 years. In fact, John Harris invented the flame cutting torch in 1899, which led to the founding of Harris Calorific.
While much has been written about oxy-fuel as it relates to cutting, brazing, and welding, its significant role in preheating applications has not been as widely addressed, nor has the increasing role played by alternate fuels in this process.
Click the download link below to read the entire article.

Download