Harris offers compact single-stage regulators for Specialty Gas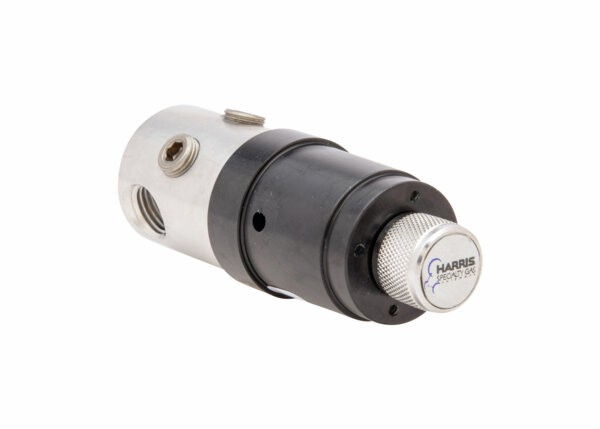 For more information contact:

Ira Vea Bennett - ira_bennett@lincolnelectric.com - 678.928.3772

Mary Sawyer – mary@geileon.com - 314.727.5850


Harris Offers Compact Single-Stage Regulators for Specialty Gases
Mason, Ohio (DATE, 2021) – Harris Products Group's compact single-stage diaphragm gas regulators are for portable calibration and analyzer applications involving complex gases.
Harris Model MR5 and MR6 regulators have a small internal volume of 2.6 cubic centimeters, a compact footprint, and are lightweight. They are typically used for applications involving lecture bottle use, EPA protocol standards, low-level volatile organic compound (VOC) gases and high purity gases. The regulator's low internal volume provides ease of purging with minimal gas waste and reduces the potential of contaminants entering into the gas stream.
Their stainless steel diaphragms minimize the diffusion of air into the regulator and eliminate "off-gassing" associated with elastomeric diaphragms. The MR5 is brass constructed, and is suitable for non-corrosive gas service, while the MR6 is stainless steel, and can be used with mildly corrosive gases.
All Harris compact regulators are manufactured and tested in the U.S.A., at their Gainesville, Georgia facility.
For more information about Harris' line of specialty gas equipment, call 1.800.733.4043 Ext. 2.
About the Harris Products Group
The Harris Products Group, a Lincoln Electric company with headquarters in the U.S., is a world leader in the design, development, and manufacture of cutting, welding, brazing, and soldering equipment, consumables and gas distribution systems. The Harris Products Group products are sold and used in more than 90 countries. For more information about The Harris Products Group and its products and services, please visit the Company's website at www.harrisproductsgroup.com.