Harris Products Group Introduces Final Line Manifold for Bulk Gas Systems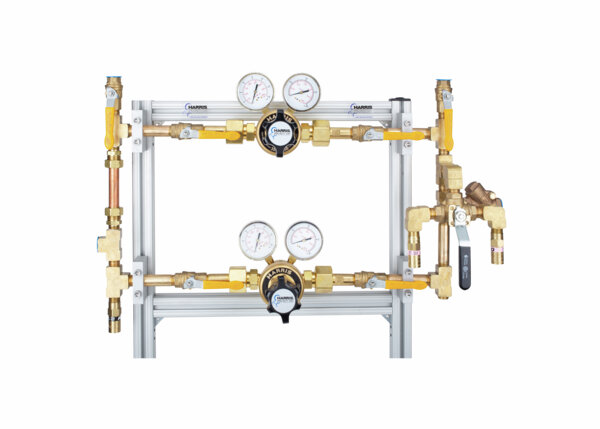 The Harris Products Group ("Harris"), a Lincoln Electric company, has introduced the Model 1030 final line manifold system that regulates the pressure and flow of cryogenic gases from a bulk tank or micro bulk tank into facility pipelines. The Harris Model 1030 final line manifold can be used for applications that involve nitrogen, oxygen, argon and C02 gases. It comes with a dual regulator set-up for redundancy, and has multiple pressure relief valves for safety.
The manifold utilizes Harris Model 3550-250 ultra-high flow regulators that are constructed with stainless steel diaphragms for durability and longer life, as compared to regulators using rubber diaphragms. They can deliver up to 250 psi (custom pressures are available). Flow rates up to 10,000 standard cubic feet per hour can be achieved at the nominal inlet pressure of 350 psi.
Designed for a variety of industrial, food packaging and laser applications, the manifold system is cleaned for oxygen service and also meets National Fire Protection Association standards for use in healthcare facilities (NFPA® 99).
Harris engineers and field teams are extensively trained to help distribution customers with almost any gas regulator/manifold application. Products are designed, manufactured, tested and stocked for rapid fulfillment at their Gainesville, GA facility.
The 1030 final line manifolds are delivered rack mounted and fully assembled with two regulators, piping, isolation valves and outlet connectors. They are ready-to-install right out of the box for easy set up.
"Having a durable, reliable system for gas flow and pressure regulation is critical for the safe and efficient operation of welding, brazing, heating and allied processes," said David Gailey, Manager of Specialty Products, Harris Products Group. "Harris is able to provide turnkey solutions for distributors and their customers."
###
About The Harris Products Group
The Harris Products Group, a Lincoln Electric company with headquarters in the U.S., is a world leader in the design, development, and manufacture of cutting, welding, brazing, and soldering equipment, consumables and gas distribution systems. The Harris Products Group products are sold and used in more than 90 countries. For more information about The Harris Products Group and its products and services, please visit the Company's website at www.harrisproductsgroup.com.
For more information contact:
Ira Vea Bennett - ira_bennett@lincolnelectric.com - 678.928.3772
Mary Sawyer – mary@geileon.com - 314.727.5850

Click to Download