Cost-savings using shielding gas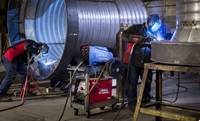 In an industry where every penny counts, finding ways to reduce costs is essential. One of the areas with the most opportunities involves the use of shielding gas, which is typically one of the largest expenditures that companies make to support their welding operations. Fortunately, there are low-cost solutions through equipment that maximizes the value these companies get out of their gas purchases.
While it may seem counterintuitive on the surface, a small investment into the proper gas equipment can easily provide significant gas savings. The following article presents simple up-grades to consider, if gas savings could benefit your organization.
Click the download link below to read the entire article.

Download